Santa Gourd Ornament
This cute gourd with the white-bearded Santa sitting in a sleigh and his reindeer on the other side pulling it through the sky, is available in both Natural and Black.
Gourd Carving is a traditional craft of the high Andean Mountains of Peru. Each gourd is skinned, cleaned, and sun-dried before artisans etch and burn the intricate designs that adorn its surface. Gourds are also a natural and uniquely shaped vegetable, similar to a pumpkin or a squash. As such, designs, shape and dimensions will vary slightly.
Measures approximately 2-1/2" high x 2-1/4" diameter
Handmade, carved, and etched by artisans in Peru and fair trade imported.
Measures 2-1/2" high x 2-3/4" diameter
Handmade, etched, and carved in Peru and fair trade imported.
MEET THE ARTISAN
Tito Medina Artisan Story
Peru
Tito Medina belongs to the fourth generation of gourd carvers; his parents Eulogio Medina and Guillermina Salome, are from Cochas Chicas, Peru which is well known for carving, etching, burning, and transforming gourds into unique works of art. Tito is a master craftsman and is known across the continent for his fine carvings and pyro-engraved gourds, each one telling a unique story. He has been carving gourds since childhood, and opened his first market stall in 1986. Through his work he has promoted the traditional craft of his region and has raised it to the level of a fine art. Over the years he has participated in several art fairs and received numerous awards for his work.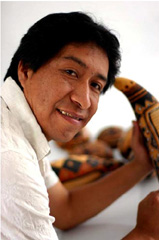 Tito and his family run Medina Handicrafts – a company that exports hand crafted gourd ornaments, masks and musical instruments. The family employs about 20 gourd artisans from the area in their engraving workshop at Huancayo, Peru. Medina Handicrafts makes certain that the artisans employed with them receive consistent work and a stable income. The farmers from the costal town of Chiclayo, who harvest gourds for the company, also enjoy an abundant local market and consistency for selling their produce to Tito's business, thus providing stability for their families and community.