Giraffe Pattern Carved Gourd- from Peru
Giraffes are known for their spotted coats. Different subspecies (types) of giraffes have different patterns of spots. Why do giraffe have spots? Either:
the different colors absorb heat at different rates thus establishing air convection currents that keep the animal cool in the heat of the day.

the spots help them to

 

camouflage

, or blend into their surroundings thus providing some protection against prey animals.

or it could be a condition called Psoriasis.
The giraffe has one of the shortest sleep requirements of any mammal, which is between ten minutes and two hours in a 24-hour period. This beautiful gourd box with a giraffe pattern was skillfully crafted by by artisans of Huancayo Peru. Gourd Carving is a traditional craft of the high Andean Mountains of Peru. Each gourd is skinned, cleaned, and sun-dried before artisans etch and burn the intricate designs that adorn its surface. This carved gourd box makes a gorgeous gift for giraffe and animal lovers.
Measures 4-1/4" high x 4-1/4" diameter
Handmade in Peru and fair trade imported.
MEET THE ARTISANS
Artesanias Peru - Esperanza and Raquel Artisan Story
Peru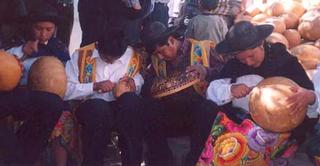 Cochas Chico and Coches Grande, twin farming villages nestled in the Andean mountains of Huancayo Peru, are home to a rich tradition of gourd carving. It's also home to Esperanza Palomino and Raquel Sabastian Rojas, two women who have established small fair-trade businesses to help create new jobs for the artisans in their village. Besides creating new jobs for artisans aged ten to sixty, both women manage work distribution from the main office to give priority to the families with the greatest need.
Esperanza carves her gourds wearing the colorful and traditional Huanca skirts, and its quite common to find her carving surrounded by her husband, sons, brothers, nephews and brothers-in-law. "My biggest dream is that all will have work and that all the families will have a better future," she says.
Raquel's workshop also creates work for about fifteen families and manages orders from the main office. Like Esperanza's workshop, Raquel's artisans share the work so that parents, children and grandparents collaborate together on large orders. "This craft we inherited from our ancestors, grand parents, and parents to the present," Raquel tells us. "Each generation improves the art and it continues to grow with future generations."
"If we have fun in our work, it will teach us to know more of our culture," Esperanza adds. "Through the created drawings we are inspired to do many things. The tradition of gourd carving helps to shape the culture and customs of the town."