Coco Twig Witch Broom from the Philippines
Cast a spell over a room with our handmade witches broom. This broom would be a fun decoration for a festive Halloween. They are made from the palm stems of the Coconut Tree. These gnarly stems make great accent pieces for many handcrafts, and witches love them for making their brooms.
 Broom Measures - 32'' long x 18'' wide x 1 3/8''deep
Handmade in the Philippines and Fair Trade imported.
MEET THE ARTISANS
Disenio de Craftico Artisan Story
Philippines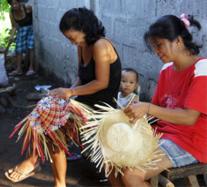 The artisans of Disenio de Craftico are fathers, mothers, young men and women who are able to help their families through the production of these crafts. They live near Lagazpi City in the Bicol region of the Philippines. Most are hand-to-mouth workers.
Using abaca fibre, nito vine and other sustainable materials, they create beautiful native handcrafts which are sold to create a livelihood for their day-to-day needs, lessen the poverty in their community and strengthen family ties.