Beaded Teddy Bear Ornament from Guatemala
Decorate your Christmas tree with these handmade glass beaded teddy bear ornaments crafted by artisans from the village of Santiago Atitlan in Guatemala. The non-profit organization Maya works supports this and other artisan communities in the central highlands of Guatemala through loans, scholarships and assistance in bringing their products to market.
Measures 2-3/4" high x 2" wide x 1/2" deep with a 1-1/2" drop
Handmade in Guatemala and fair trade imported.
MEET THE ARTISANS

Mayaworks Artisan Story
Guatemala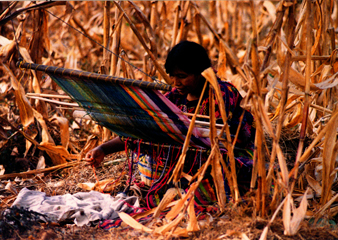 Maya Works is a non-profit organization that works with many Mayan artisan communities in Guatemala. The organization works towards finding the right marketing platform for the artisans and their products. Maya Works believes in community development through economic development, and the organization's ultimate goal is to overcome poverty and illiteracy and to create a fair marketplace where artisans may benefit directly from their work.
Maya Works is associated with over 125 artisans in 6 communities around the central highlands of Guatemala. Apart from market support, Maya Works provides its artisan communities with literacy, skill training, scholarships and micro loans. Maya Works also provides opportunities such as meetings, workshops and international exposure for these artisans, which helps them build their business expertise. The various crafts produced by the artisan partners of Maya Works include, hand woven fabrics, home accents, napkins, aprons, crocheted bags, pouches and corn husk angels and dolls.
Currently, Maya Works provides educational scholarships to 120 young girls from the artisan communities in Guatemala. Similarly, micro loans facilitated by the organization, help these artisans to improve their standards of living and expanding their business.